This is the biggest bedroom with a big window and a fan and locker include almirahs for the travellers. Room size is 15*12 sq feet includes big toilet (western). You can enjoy with your family in the lounge where you can play Sony playstation 3. Extra bed will be charged Rs 350 You can enjoy on the terrace with the fort view restaurant. Bike,car and activa available,Desert safari,camel safari,zip line tour available.(homestay located in the blue city near clock tower)
Housed in a 500-year-old building in Jodhpur, The Blue House is a family owned guest house featuring a rooftop restaurant and a terrace offering views of Mehrangarh Fort and the royal family's Cenotaphs. It provides complimentary pick-up service. We got an unusual amazing 500 yr Old Haveli with Many different floor. It is most charming, wonderful Old Blue Haveli in entire town where you can enjoy real indian Royality with luxury rooms and view of fort. In total 35 people can accomodated in one time From the room or on the roof you can enjoy the amazing view of fort and blue city. Guest can access any where and each part of our unique place. We just treat like they are in their own place This is main charm of our place. As a place run by Jain family, We always try that each guest can feel that they are in their own home. We always welcome to everybody to enjoy their time with us and having wonderful Saffron Masala Tea. We are located in old blue city where all the famous places are just like walking distance. All the place just walking distance. You can enjoy the city also with the Tuk Tuk which is easy to find round the clock. The Blue House is Run By Repoted Jain family of Jodhpur where we just try to do our best for all the clients. Guest are going to stay in a oldest guest house of jodhpur city. So come as a guest of house and stay with us as a friend. Remember some other people try to copy of Our place with simillar name { INSTANT OF THE BLUE HOUSE} So don't confuse to reach at our place. We don't pay any Commission to any tuk tuk or taxi driver. BEWARE OF INFERIOR IMITATION
Það sem gestir hafa að segja:
"Fullkominn staður fyrir alla ferðamenn eins og okkur sem meta fallega, sögulega, forna menningu og umhverfi (staðsettur miðsvæðis: rétt á aðalmarkaðssvæðinu @ innan við 15 mínútna göngufjarlægð frá öllum helstu aðdráttaraflið). Hvert herbergi er öðruvísi og fallega innréttuð, rétt eins og myndirnar sem sýndar eru. Okkur langaði til að þakka þér, Manish, fyrir sveigjanleika þína með komu okkar og brottfarartíma (með rútu) og að sjálfsögðu mjög gaman að mæla með þínum stað."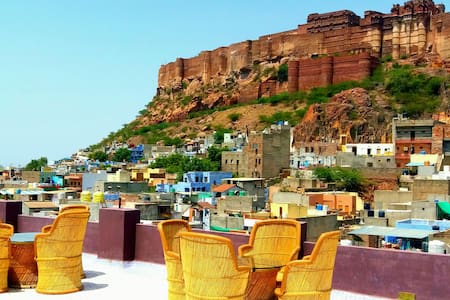 SUPERHOST
Herbergi á hönnunarhóteli · 2 gestir · 1 rúm · 1 einkabaðherbergi
King Room Fort View with Balcony
Spacious room of 25x25ft in a lovely guesthouse in the heart of old town Jodhpur. Close to major attractions and walking distance to Clocktower, local markets, Stepwell Square, fort and white temple. Each King Room has AC, TV, private bathroom and terrace, with a huge view of Mehrangarh Fort from the window. Big rooftop area with restaurant and great 360 degree panoramic views of the fort and city. Only 2 km from the main Jodhpur Junction railway station, pick up service available on request.