Fresh Gothic-Victorian nearby the Museum of African American History, Wayne State, Third Man Records, Shinola. Sfumato Fragrances in the garden level, perfume shop and low-key scented cocktail bar (search for the latest New York Times article). Selden Standard across the street. 9 min walk to QLINE (approx 10 min to Downtown on the streetcar). 10 min walk to U of M Ann Arbor shuttle bus. MoGo bike rental 1 block away. Rocket Fiber gigabit internet speed. Sonos controls in wall speakers.
Upstairs from Slows BBQ and on the same block as Astro, Sugar House and Gold Cash Gold, this two-bedroom neighborhood inn provides an immersive, welcoming travel experience in the heart Corktown, Detroit's oldest neighborhood.
Það sem gestir hafa að segja:
"Ansi ástfanginn af þessum heillandi stað. Staðsetningin er æðisleg, bókstafleg skref í burtu frá frábærum mat, drykkjum, kaffi og öðru boði í Corktown hverfinu sem Detroit býður upp á. Það er líka stutt akstur til margra annarra ógnvekjandi hverfa í Detroit. Bílastæði við götuna voru auðveld og er vel upplýst og mikið um mansal. Meghan lagði fram ótrúlega mikið af upplýsingum um áhugaverða staði og tillögur, við gætum ekki verið ánægðari með dvölina!"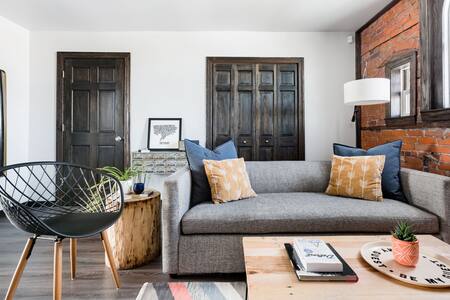 PLUS
Ris í heild sinni · 4 gestir · 2 rúm · 1 baðherbergi
Stunning ' Little Paris ' Loft with Private Rooftop Terrace
Nestled in historic Brush Park, known as Little Paris in the 19th century, this stunning loft will immerse you in the city's past while keeping you just steps from its future. Centrally located between Downtown, Midtown and Eastern Market, you'll be in the heart of the city with amazing bars, restaurants, cafes and venues just outside your door. The design-focused space features a 400 sq ft private terrace overlooking the downtown skyline. Perfect for a romantic getaway or a special event! Dates not available? Click our profile to see all of our listings. You can also book the whole house!